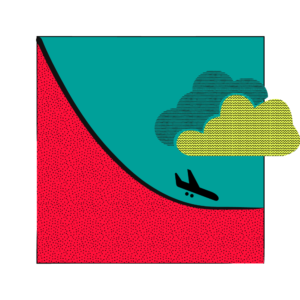 Berlin – Brussels, a very common route. But policy makers, lobbyists and tourists all travel by plane. It is normal, and there is no good alternative. One initiative is demanding the reopening of a night train between those cities, which would be 200 times more climate friendly.i Sometimes, degrowth of aviation could be as easy as that. Sometimes it might be more complicated. The fact is that green flights are and will continue to be an illusion, and there is no other way forward than reducing aviation.
Aviation is the mode of transport with the biggest climate impact by far (see Diagram below). Yet, air travel is growing faster than any other sector. While global CO2 emissions increased by an estimated 25% from 1990 to 2010, the CO2 emissions from international aviation rose by more than 70% in the same period.ii Within the European Union, as elsewhere, emissions from aviation grew more rapidly than those from other sectors of the economy.iii If it was up to the industry, this trend would continue: the number of aircrafts and the number of passenger-kilometres flown is expected to double over the next 20 years. This entails more than 1,000 infrastructure projects around the world and many associated conflicts (see Diagram 3). The international aviation industry anticipates annual growth of 4.3% throughout the next decades.iv This could cause greenhouse gas emissions from aviation to increase four to eightfold by 2050.v
How have such enormous growth rates been possible? One reason is that the costs of air travel are 60% lower today than they were in 1970. Costs have been cut through low-cost carriers, wage dumping, efficiency gains, and, above all, sector deregulation from the 1980s onwards.vi States massively subsidise the industry: aviation kerosene is the only fossil fuel apart from maritime heavy oil that is usually not taxed. Many governments abstain from levying value-added tax on tickets and property tax on airports. In the European Union alone, the losses in state revenue due to the subsidies to the aviation sector amount to 30 to 40 billion euro annually.vii Also, aircraft manufacturers and airlines benefit from major subsidies.viii Everyone—including those who do not fly—pays for these subsidies, ensuring that the mode of transport of the better-off remains cheap.
Industry representatives like to point out that emissions from aviation account for only 2% of global CO2 emissions, and that international flights account for only 1.3%, but they conveniently omit several facts:
First of all, the share of emissions from the aviation sector is increasing rapidly. In a report to the European Parliament, the research organisation Öko-Institut warned in 2015 that CO2 emissions from international aviation may reach a share of 22% of global emissions by 2050.ix An even larger share is probable for the aviation industry in other countries: projections for the United Kingdom indicate that if the goal of limiting global warming to 1.5 degrees is taken seriously, and the controversial expansion of London's Heathrow Airport continues, aviation will consume up to 71% of the country's available CO2 budget in 2050.x Secondly, aviation's contributions to climate change are not just a matter of CO2. If other factors contributing to climate change are taken into account—such as induced cloudiness, ozone, contrails, water vapour and soot—aviation's contribution to human-induced climate change doubles at the very least. A 2005 estimate stated that civil aviation's climate impact amounted to around 5%.xi Thirdly, only a small number of (frequent) air travellers are responsible for this 5%, since most of the world's population has never set foot on an airplane. Finally, one should also keep in mind that these figures only cover civil aviation—but there is limited information on emissions from military aviation available.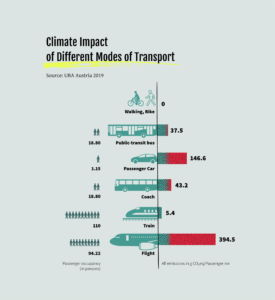 The impacts of aviation also go beyond climate change. The extraction and transport of the fuels needed contribute to the broader environmental crisis through degradation of ecosystems, geopolitical conflicts and wars. Huge amounts of materials, such as metals and cement, will be consumed if the plans to build hundreds of airports and double the fleet of civil aircraft over the next 20 years, from 21,633 to 43,560,xii are carried out.
Unfortunately, that is not all: people living near airports are exposed to higher health risks. High blood pressure and heart disease are some of the effects associated with aircraft noise and high particulate levels in ambient air,xiii and additional airports and runways will degrade ever more habitats of people, animals and plants. At the same time, the economic impacts on host regions are not always positive. Negative examples include transport infrastructure and hotel chains displacing small shops and farmers, while real estate prices rise.xiv Water reserves dwindle under the dual pressure of climate crisis and tourism. While landfills grow, the local culture becomes an attraction and a commodity.xv This all leads to mounting protests in regions inundated by mass tourism.
Green flying is an illusion
In response to the growing critique, the aviation industry and the UN agency ICAO (International Civil Aviation Organisation) have announced their intention to make international aviation greener in the future. The proclaimed goal is carbon neutral growth from 2020 onwards, defined in the program CORSIA (Carbon Offsetting and Reduction Scheme for International Aviation). It consists of mainly two elements: first, efficiency improvements and new technologies (like 'green fuels'), and second, carbon offsetting. In addition to international aviation, this strategy can also be recognised at airport and airline level, as well as in almost any climate sector.
The goal of technological fixes
Future technical improvements for aircraft and operations have been identified, and should continue to be researched. One example is how slightly changed flight paths might reduce the creation of contrails.xvi However, these attempts will be insufficient to overcome aviation's emissions problems: Step-changes in aviation technology are uncertain and will not come into effect until decades from now, which the industry admits.xvii Lifting a huge engine into the air is simply much more energy intensive and complicated than moving a vehicle on the ground. For example, electric flying is not possible for passenger or freight engines because of the weight of batteries. The forecasted efficiency gains in fuel use are far exceeded by historic, current and planned growth rates of air travel and air freight.
One main greening strategy is the push for alternative aviation fuels: On the one hand, biofuels made from plants like palm oil are being fostered by the industry. However, this could drive a massive increase in deforestation and peat drainage and thereby cause vast carbon emissions. In order to avoid this and associated land grabbing, human rights violations and loss of food sovereignty, resistance to biofuels needs to be prioritised. Synthetic fuels made from electricity (Power to Liquid) are technically feasible, but they would have to be produced using surplus renewable energy, and we are a long way from even producing enough renewables for transport on the ground, agricultural production and heating.xviii Aiming for unrestricted growth of renewables can also lead to immense problems, be it large hydroelectric dams causing biodiversity loss, or neo-colonial mega solar or wind parks on indigenous territory in the Global South.
Offsetting instead of reducing emissions
As technological solutions are limited, the ICAO climate strategy relies almost entirely on offsetting carbon. Instead of reducing emissions, airlines can offset them by buying carbon credits from others – like reforestation projects or hydro-electric dams that claim to lead to emissions savings. Additionally, airports often try to legitimise their destruction of ecosystems by offsetting the biodiversity loss. The study The Illusion of Green Flyingxix demonstrates the many short-falls and problems associated with offsets and concludes that they serve as a cheap licence to continue polluting. Simultaneously, offsetting—besides often being subjected to fraud and strange calculations—has shown to have many perverse effects, especially in the Global South, including land grabbing, displacement of local communities, and more.
All in all, the minor efficiency gains and emissions savings delivered by the aviation industry's own measures will not prevent the massive rise in emissions that the envisaged growth rates will produce. For decades to come, 'decarbonised' air traffic or 'carbon neutral growth' will therefore remain an illusion. Instead, the mounting demand for biofuels, energy and offsetting credits represents a serious risk. The result might be amplified injustice, new ecological problems and conflicts, which is why climate justice can only go along with a reduction of energy use and aviation.
Degrowth: what is it and why is it necessary for aviation?
The debate surrounding environmental problems induced by aviation and flying suffers from many of the same myths as the general discourse on green policy: it avoids the issues of reduction in activity or consumption levels, and puts all hopes into technical solutions in combination with economic instruments to 'correct prices'. However, as ecological economists have long pointed out, emissions are pervasive because all production processes require material and energy inputs, producing emissions and waste products as an outcome.xx None of the technological solutions suggested by the aviation industry can change this. This understanding of biophysical reality, and of the biophysical basis of the economy, is central to the idea of degrowth.
At the same time, degrowth is about much more than just a simple decrease in consumption, living standards or material throughput of the economy. The concept also encompasses a critique of the whole modern culture of development, that is, a belief that more is always better. A core concept is sufficiency. Degrowth is a movement that questions growth-society and searches for ideas and practices about what might constitute a good life and a good society, without aiming to prescribe any specific solutions. Diversity and a plethora of approaches are envisioned.xxi
The concept of 'degrowth' (décroissance) was born in France in the 1970s as a cultural critical parallel to the more technocratic Limits to Growth-debate taking place internationally. 'Degrowth' as a concept was born at a time when international development aid was taking off, and the Western, individualist and consumerist lifestyle was heavily promoted as a modern ideal in developing countries. Today, it must be understood first and foremost as a project for a radical social-ecological transformation.xxii
The discussion around degrowth of aviation encompasses two things: the simple and basic message of reduced flying to reduce environmental impacts, and at the same time, a questioning of the modern cultural-economic model in which flying and hyper-mobile, busy lifestyles have become the norm, both privately and at work. Thus, discussing degrowth of aviation must include more than simple measures to reduce the immediate emissions from aviation. To address the problem on a larger scale, there is a requirement to challenge and reconsider the wider development and economic model of which it is a part.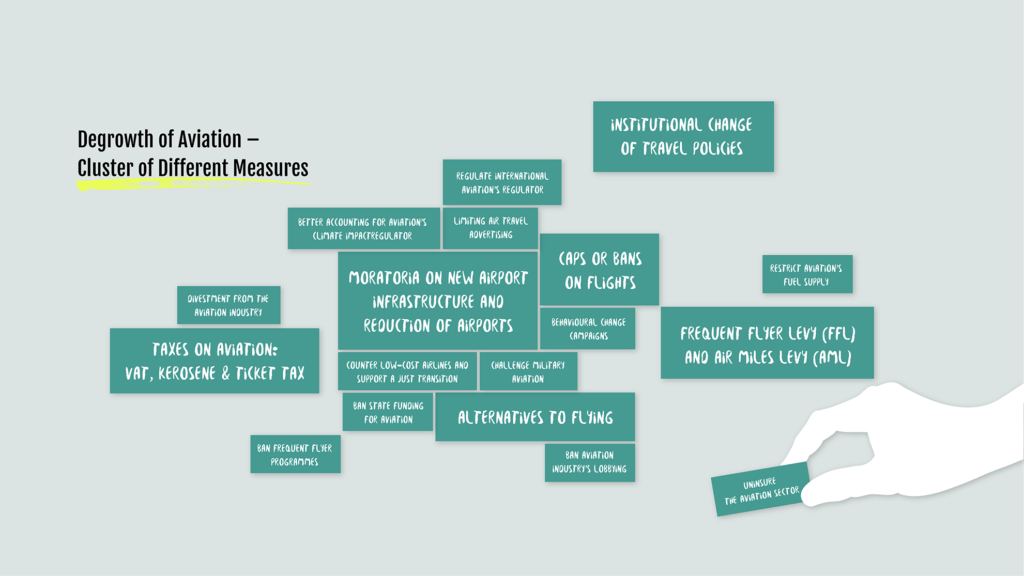 Beyond false solutions
Having outlined the impossibility of green flying and the need instead for a reduction of aviation, if the measures are to have any effect on climate change, we will now discuss different alternative measures in detail, including how to implement effective action. If the proposals from the aviation industry itself are not convincing, then what are the strategies or measures that could work to reduce aviation? There need to be – and there are already – alternative paths, as highlighted by initiatives that tackle the causes of climate change at their roots and seek effective climate action. Many suggestions already exist, but need to be examined in detail. What we need is debate and implementation of measures that have an actual effect in terms of reducing the problems we are facing. This was one of the purposes of the conference in Barcelona in 2019.
The next chapters describe in-depth a range of measures that can be much more effective than the ones proposed by ICAO. Knowing that there are no magic solutions, the chapters discuss the pros and cons of each policy in terms of its effect on emissions reductions, its feasibility of being introduced, as well as its possible contribution to broader systemic change, including social justice.
---
Literature
Find the while literature list in the report Degrowth of Aviation, p. 45-47.